General furniture materials
Art & Wood | Fiki, Trikala
---
TEXIL is based in the area of Fiki in Trikala and is a handicraft manufacturer of wooden lathed objects.
Driving force for our constructions is the inspiration, so we craft for you:
- Knobs for drawers, cabinets, cupboards, desks, bedside tables κ.α.
- Decorative wooden plugs for interior stairs
- Various wooden finishes - ends for metal chairs, beds, monks, clothes hangers, etc.
We have a wide range of cutters (molds) for various components and we can undertake constructions that we do not already cover upon order and consultation with the customer.
If you wish, we can make a perfect finish and paint the items you order.
Sending our prosucts throughout Greece!
Browse some of our products
Our thirty years of experience in the production of wooden objects, quarantines the high quality, the consistency in covering large quantities in a reasonable, pre-agreed time period.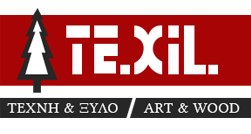 Contact us for further information!
Fiki, Trikala
Tel.: 2431051157, 2112155436 | Mob.: 6985881058